Exhibition Announcement
Institute for the Humanities
One 11x17 sheet of paper folded in an unconventional way made for a memorable—and economical—announcement for an exhibition on avant-garde composer John Cage's installation "Lecture on the Weather."
11x17 inches (opened). Full color.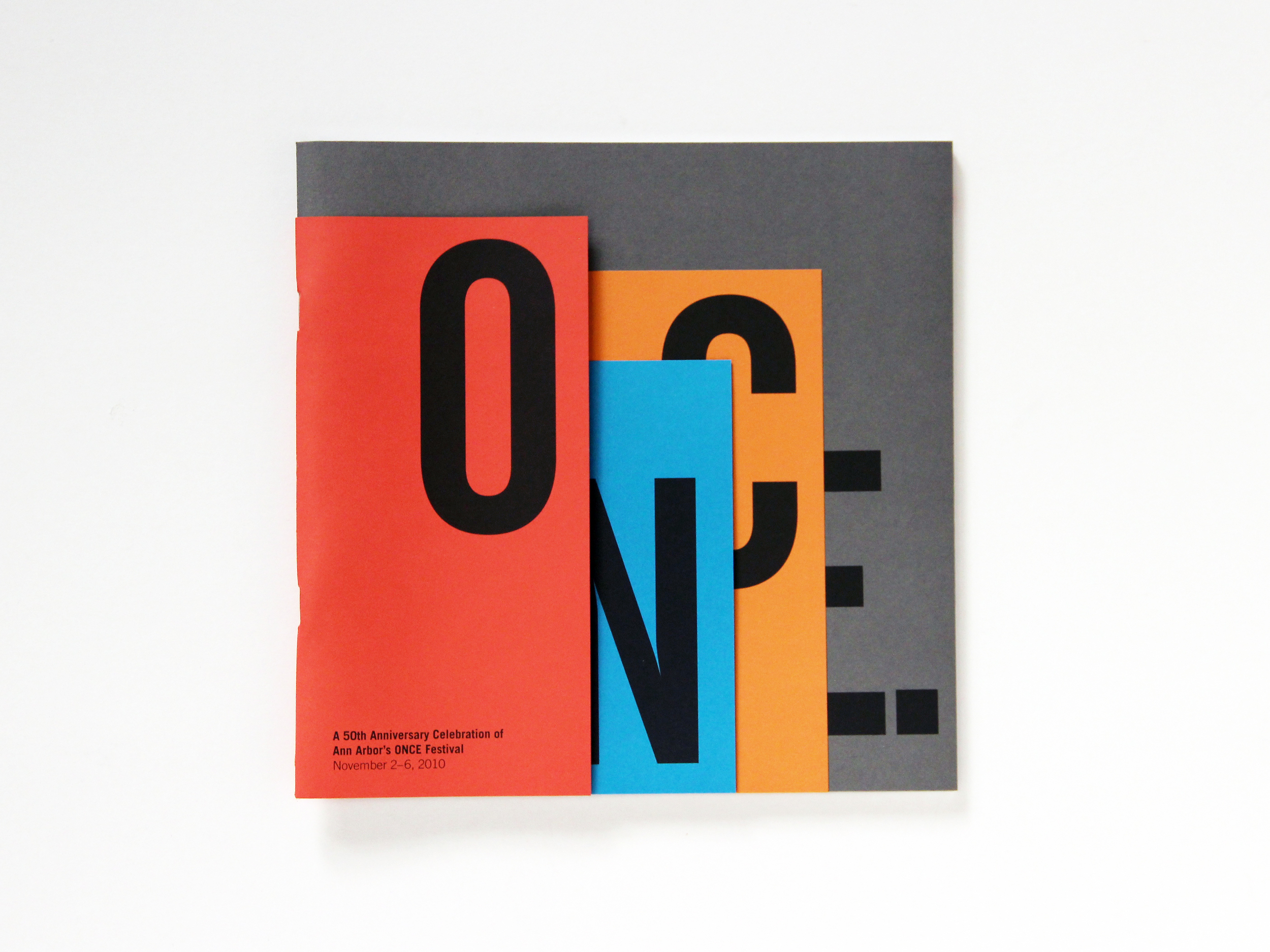 Once.More Festival Guide
University Musical Society
This illustrated guide provided extensive history and schedules for three days of events exploring the significance of the ONCE movement; a group of musicians, performers, and artists formed in Ann Arbor in the 1960s. A series of staggered covers set the stage for the information contained within.
Saddle stitched. 10x10 inches. 36 pages.
CD Package
Star Spangled Music Foundation
A two CD package with 24-page booklet tracing the origins, transformation, and myths surrounding the "Star Spangled Banner", released for the 200th anniversary of Key's song.
Double CD package. 24 page booklet.
Royal Shakespeare Company Residency Guide
University Musical Society
This guide provided background, historical context, and practical information to patrons preceding a series of performances of Shakespeare's "History Plays" by the Royal Shakespeare Company.
Perfect bound. 6x9 inches. 36 pages. Full color
Concert Announcement
University Musical Society
A self-mailed brochure announcing a performance and award in honor of jazz pioneer Dave Brubeck.
11x6 inches. 3 panel gate fold. Full color with metallic ink.
Foundation Brochure
Michigan Architectural Foundation
An accordion fold piece with die-cut panels transforms a brochure into a three dimensional object outlining the goals of the Michigan Architectural Foundation.
36x11 inches (flat). Full color with die-cut panels.
Campaign Brochure
University of Michigan Museum of Art
This brochure makes the case for support of the Museum's mission by emphasizing six funding priorities in a center double gate fold panel.
7x11 inches. 20 pages. Saddle stitched with gatefold center spread.
Exhibition Brochure
Institute for the Humanities
A keepsake brochure with brief essays and catalogue section for an exhibition by noted Polish poster artist Stasys Eidrigevicius.
10x8 inches. 20 pages. Saddle stitched. Full color.
Exhibit Announcement
Institute for the Humanities
An oversize mailer promoting events related to visiting artist Canan Tolon.
Arts Organizations